Your e-Family Forum membership enables you and your entire family to create your own web site. It's fun, useful, and easily shared. For about the same price as a magazine subscription, an e-Family Forum membership is one of the best gift values around.
Please scroll through this section to discover some of the terrific features and benefits a membership offers:
Create...

Enter unlimited birthdays, anniversaries, special events
Include 2 photos each month - change as often as you wish
Display your favorite holidays - choose from over 450!
Select from 10 designer background/color schemes
Render elements of your calendar in 1 of 13 languages
Show seasons, solar/lunar and other astronomical events

Print...

All the copies you or any of your family members want right from the Internet on a desktop printer
A 1-year e-Family Forum membership costs less than just 1 copy of a personal calendar from a national copy center chain with a limit of 7 personal entries

Next Year...

All you have to do is renew your membership and all of your personal entries and holidays are automatically updated!
Scroll down and take a look at some of the highlights of the Family Calendar.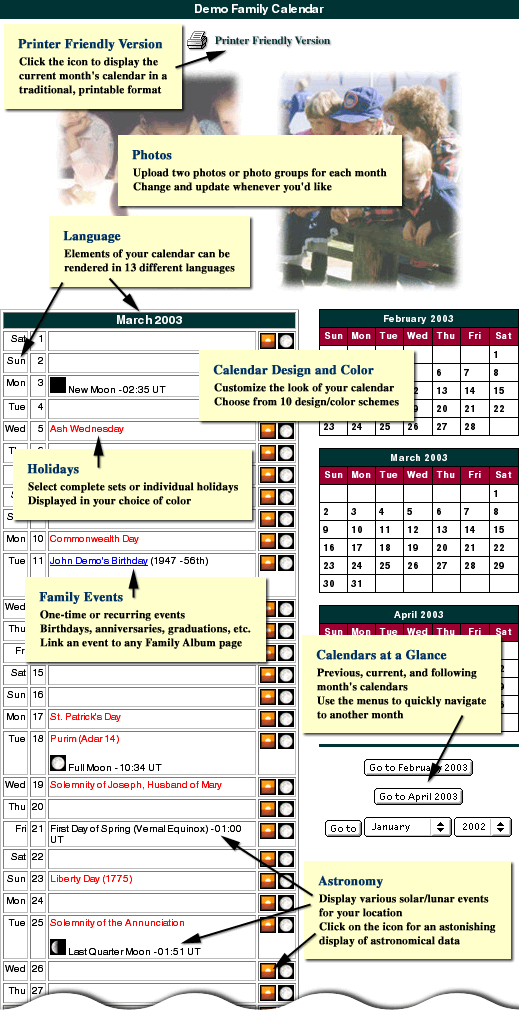 Family members who create their own family album page can personalize and customize most of their forum's display settings.
Share family history - from the earliest ancestors to the newest members.
Here's a sample of a personal Family Album page.
Each family member can create their own page and update it as often as they wish.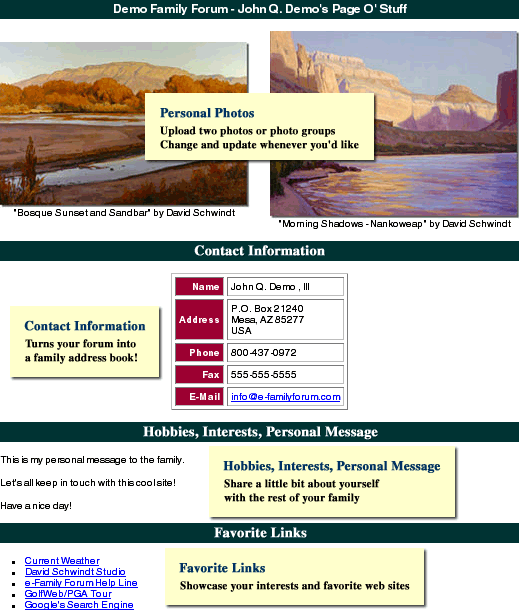 e-Family Forum memberships are password protected.
You're in control. As the purchaser of the membership, you elect how much or how little editorial content you want to share with your family members.
Banner ads, pop-ups, pop-unders? - you won't find them here!
As the owner/editor of your e-Family Forum, you'll enjoy the warm feeling of sharing a valuable gift with your family. Your annual membership is only $2.99 USD per month, paid and renewed annually.
Designed and maintained by Safety Zone ©2023
http://www.western.net/
badges

western.net